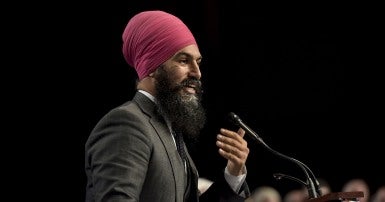 CUPE convention erupted in cheers as newly-elected NDP leader, Jagmeet Singh entered the hall on the final morning. The first person of colour to lead a national political party, Jagmeet soundly won the party leadership on the first ballot, and it was easy to see why as he immediately connected with the thousands of members in the room.
"We're always going to have a special bond," he said when the room finally quieted. "This is and will always be my first convention after becoming leader. Thank you for that."
"I'm so excited about CUPE's Bargaining Forward policy," he said. "It's more than just taking a firm stand against accepting concessions and two-tier proposals at the bargaining table. It's a powerful acknowledgement that what you bargain impacts everyone around us, not just your members."
Having run on a campaign of equality and economic justice, Singh condemned the actions of employers everywhere who are splitting what used to be full-time, secure jobs with benefits into two or three casual and part-time jobs with few or no benefits.
"The work you do matters for the future of our country," he said.
Singh passionately commended CUPE's unwavering commitment to racial equality and its celebration of diversity, acknowledging how important it was to him personally. Speaking of his own experience he concluded by saying, "I look forward to becoming the first Prime Minister to have been carded – so I can make sure nobody has to bear that title ever again."
Singh outlined his top priorities as he begins to campaign now for the 2019 election – racial and economic equality, the environment, reconciliation and democratic reform. He particularly called out Trudeau for his government's privatization agenda that ensures wealthy insiders make out like bandits while the rest of us get stuck with higher costs and poor services.
"The NDP will continue pushing back and holding this government to account on the issues that matter to us most. But it's not enough to just oppose – we want to be a party that proposes solutions," he said, promising to do just that.
Praising the delegates, he said, "You are phenomenal champions for a fairer and more inclusive country. You inspire your members to dream bigger. You expect more and then you help them get it. On behalf of all New Democrats, I make that same commitment to you. It's an honour to stand with you on that journey."