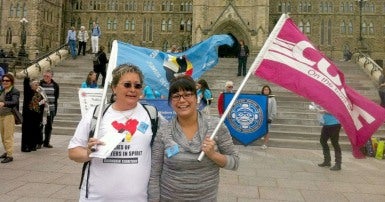 Tom Mulcair and the NDP are committed to ensuring no woman or child are turned away from a shelter when fleeing violence. Mulcair said his government will restore funding to women's shelters and invest in affordable housing and homelessness programs if elected. This will be anchored by the NDP's national action plan to end violence against women and girls.
CUPE's membership is composed of 68 per cent women workers. And we represent many women's shelter workers across the country. Violence against women is an extremely important issue for us.
The situation facing women's shelters is grim. On April 16, 2014, 338 women and 201 accompanying children were turned away from women's shelters in Canada.
The Conservative government's record on violence against women consists of cuts and inaction: reduced funding for women's shelters; defunding women's research and advocacy organizations; and refusing to launch an inquiry into missing and murdered indigenous women.
The NDP has also committed to launch an inquiry on missing and murdered indigenous women within the first 100 days in office. Indigenous women are almost four times more likely to be murdered than non-Indigenous women.
A concrete, achievable plan to end violence against women is one more reason why CUPE supports the NDP. Make your voice heard for women's rights on October 19!