The Government of New Brunswick formally announced this Thursday that Court Stenographers, members of CUPE Local 1840, should expect a lump sum pay equity adjustment in the coming months.
"Our members have been waiting six years for this, but the fight has been all worth it," said Odette Robichaud, CUPE 1840 President and CUPE NB Vice-President.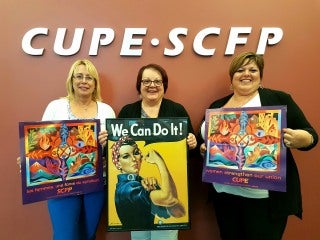 The Pay Equity Act, 2009 came in effect on April 1st, 2010, with wage adjustments to begin April 1st, 2012.  The law covers all government employees (Departmental employees, Part I; School system, Part II; Hospitals, Part III; and Crown Corporations, Part IV.) The 2009 law replaced the 1989 Pay Equity Act which applied only to Part I.
The government has still not established an effective Pay Equity Bureau as called for in the legislation. The Bureau's mandate would be to oversee the application of the Act, produce educational material and provide information, assistance and advice to employees, employers and bargaining agents.
 "While today the government made a step in the right direction, it needs to review the Act. The Legislation is weak and flawed as a tool for achieving fair pay for female-dominated jobs in the public sector. It offers little to hold the government accountable for timely completion of pay equity studies," said Robichaud.
 Today, the majority of women – mostly working in the private sector - are not covered by any pay equity legislation.
 "To all women working in the private sector: don't give up! The fight for women's right to pay equity is far from over, but it's worth it," Robichaud concluded.