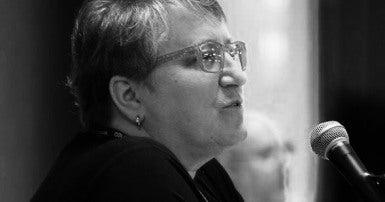 The following letter to the editor by CUPE NS President Nan McFadgen was published by the Chronicle Herald on June 19, 2020. 
The Nova Scotia government announced to the citizens of this province that it would ensure child care centres and family day homes would be available when the economy was ready to reopen.
While this decision may have seemed altruistic, it has become clear to most people that if the premier wanted to reopen the economy, he had no other choice. An economy without quality, public, dependable and affordable child care is an economy in trouble.
Unfortunately, the child care system we have in Nova Scotia is extremely fragile and poorly funded.
In his public briefings, the premier has implied that his government has been providing child care centres with everything they need to get them through this unprecedented time.
Unfortunately, this is not entirely true.
The premier's words made families believe that they were being given the opportunity to take their time, to come to terms with sending their children to a child care centre during a global pandemic. McNeil said their places would be held for them, every spot. However, government committed to funding only half of those places, leaving child care centres to foot the bill for any spots that they cannot fill.
Child care centres across the province are now facing a funding crisis that threatens to undermine the viability of the entire sector.
Centres have reached out to families to encourage parents to send their kids back. They have done their level best to reach the 50 per cent capacity government required of them. Despite these efforts, many have failed to reach the enrolment level that they need to stay afloat. Many parents remain concerned about the risks and are now waiting until September to return their little ones to child care centres.
Parent fees make up the majority of child care centre budgets. In pre-pandemic times, government investments in child care centres, including any subsidies that followed individual children into spaces, accounted for, on average, only 32 per cent of a given non-profit centre's overall budget, and likely even less at for-profit centres. Even with the government making up 50 per cent of parent fees, centres that aren't operating at full pandemic capacity are being left with a gaping hole, and many will not be able to meet their fixed expenses.
Without assistance, where will the money come from to pay staff? How will centres cover the rent and taxes that they owe? How will they pay for PPE?
Our child care centres were in a fragile financial position before COVID-19; will they even be in business when parents look for their spot in September? Right now, no one knows. Layoffs have started, and the sector is losing experienced early childhood educators that we may never get back. There are not enough ECEs in Nova Scotia as it is. They will move on to more stable work.
Where will Stephen McNeil be, through all of this? He will be at work because he doesn't need child care! If he is as concerned about getting our economy restarted as he claims to be, he needs to acknowledge that our child care system needs more than life support to survive and recover, and then do something about it. He has an opportunity to lay the foundation for a universal system that all families can rely on. If he doesn't take this opportunity, it's hard to say how the sector will ever recover.
Nan McFadgen
President, CUPE Nova Scotia