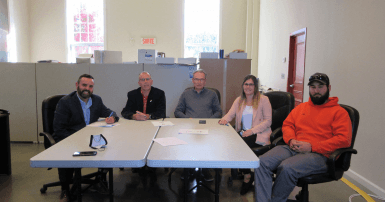 In a relaxed atmosphere, the representatives of both parties ratified the new contract covering 15 inside and outside workers for the Municipality of Montebello located along the shore of the Ottawa River in the Petite-Nation region.
The agreement, which runs from 2022 to 2026, calls for an average salary hike of 8.9 per cent for 2022, 2.25 per cent in 2023 and another 2 percent for each of the last three years.
Other improvements to the collective agreement include an update in the progression of wage increments, the introduction of new standby pay and a change to the fifth week of vacation that will now take effect after 12 years of service instead of 14.
Members of the bargaining committee believe that the objectives set prior to negotiations were achieved with respect shown on both sides. In addition, the tentative agreement submitted to the members last September 15 was unanimously accepted.
"I'm satisfied with how quickly and effectively the talks unfolded," said Natacha Bourbonnais, secretary-treasurer of CUPE 4986.
"This was an update of salaries and some working conditions, which was inevitable," added Jeff Larente, vice-president of CUPE 4986, Montebello unit.
The mayor of this small town of 800, which is recognized as a major tourist hub in the region, was also pleased with the outcome. "Both sides collaborated effectively and produced a good agreement. The services to the public will only be better," said Martin Deschenes, the mayor of Montebello.