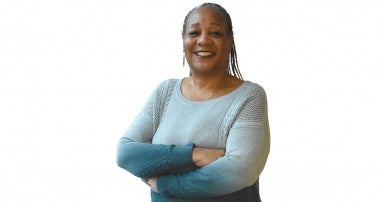 Charles Brenchley | CUPE Communications
Michele Alexander is a proud CUPE 15 member, representing close to 10,000 inside workers at the City of Vancouver. 
Michele was born in Canada, and grew up in the United States during the 60s and 70s. She is no stranger to racism. She watched her mother get passed up many times for different employment opportunities based on her race. "When I returned to Canada as a single mother, I realized that racism was still very present, and I wanted to call it out wherever I could," said Alexander. "Having stable and secure employment has allowed me to have a louder voice and encourage others to speak up as well."
Deeply involved with CUPE's work since she joined her first strike 21 years ago, Michele has served as CUPE BC Diversity vice-president and has been a long-standing member of the National Rainbow Committee. She cherishes her time as a member facilitator, always striving to bring people together and build solidarity. 
As a member of the Rainbow committee, Michele is proud of her contributions to the work being done around CUPE's anti-racism strategy.  
"Black, Indigenous and racialized workers are often stuck in precarious jobs despite their education, skills, and experience. That precarity weakens workers, our union, and our communities. With this anti-racism strategy, we are building capacity to expand opportunities for CUPE members and their families." 
As Michele reflects on her more than two decades of activism at CUPE, she recognizes that the path to combatting racism is long. "We still have a long way to go to fight racism within our union, but I am confident we are on the right track."