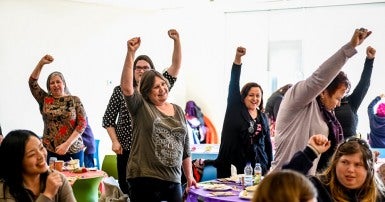 CUPE Metro District Council celebrated International Women's Day with women from Delta and Richmond BC, along with those working in agencies that support women and families.
Coast Salish Matriarch and Elder, Roberta Price, warmly welcomed everyone, shared her story, talked about ceremony, and led an exercise to shed negative energy.
Natalie Drolet, staff lawyer and executive director of the Migrant Workers Centre – and a former CUPE member – spoke about domestic workers whose work benefits families, employers and the economy as a whole. Many are immigrant women, women of colour, and migrant workers. Many work excessive hours without overtime pay, endure lengthy family separation, and face restrictions to permanent residency.
"They are expected to leave their children behind, while they take care of Canadian children and families," said Drolet.
The worker-led Migrant Workers Centre is the only organization in Canada dedicated to providing legal advocacy to migrant workers. Their advocacy recently led to major victories for caregivers and other migrant workers. The Minister of Immigration announced two new pilot programs for migrant caregivers that gives them sector-wide work permits and provides a way to bring their spouses and families to Canada.
This November the B.C. government passed the Temporary Foreign Worker Protection Act that protects all migrant workers from being charged illegal recruitment fees and extends the limited period to recovering those fees to two years.
"We would not have achieved these victories without the support and solidarity of the labour movement," said Drolet.
A highlight of the event was entertainment by JB The First Lady, a Vancouver-based hip hop and spoken word artist, beat-boxer, cultural dancer and youth educator. Her songs capture oral history with lyrics that speak to challenging subjects like residential schools and missing and murdered Indigenous women. She is nominated for the 2019 Indigenous Music Award Best Rap/Hip Hop for her album "Righteous Empowered Daughter." She rocked the event with the audience singing along and dancing to her song "Still Here."
"This was by far the most diverse event that we've had," said event organizer and CUPE 23 member Sarah Bjorknas. "The diversity of participants and providers all added to the great vibe."
Lunch was catered by Tayybeh, an organization supporting Syrian women by "promoting their awesome homecooked food." Sandwiches and drinks were provided by the Banqueting Table, a non-profit social enterprise that provides opportunities to single mothers and women who wish to re-enter the workforce. CUPE 23 member Kathy Boyce adroitly emceed the event.
To view photos, visit the CUPE BC gallery.