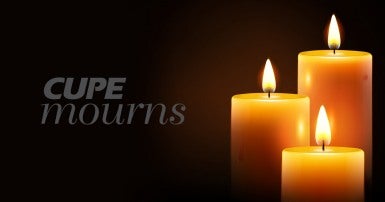 It is with deep sadness that we have learned of three CUPE members who were among the victims of Monday's tragic vehicular assault near Mel Lastman Square in Toronto.
CUPE 4400 member Renuka Amarasinghe was killed in the attack. Renuka was a single mother and a Nutrition Services worker who had worked at a number of Toronto District School Board schools, most recently at Earl Haig Secondary School.  Renuka was also a well-loved member of the Scarborough community.
CUPE 3904 member Amir Kiumarsi remains in the Intensive Care Unit at Sunnybrook Hospital. Amir is a chemistry teacher at Ryerson University's G. Raymond Chang School of Continuing Education and has served as the Chief Steward for Unit 2 for the past four years.
CUPE 79 member Amaresh Tesfamariam, a registered practical nurse at Fudger House, was gravely injured and remains in critical condition at Sunnybrook Hospital.
The entire CUPE family mourns the loss of our member, Renuka Amarasinghe, and the nine others who set out on a walk that fateful day, not knowing their lives would be tragically cut short.
We offer our best wishes for the speedy recovery of all the injured, and the entire community as we look for ways to heal following the senseless violence that has hurt so many.
We want to thank the hospital workers and first responders for their care and devotion to our community, many of them CUPE members.
While the investigation continues and details about the attack are yet to emerge, we join together in condemning all forms of hate and violence.
The need for hope and love is great in our society. As we comfort one another and help each other through this difficult period, we renew our bonds of solidarity across the entire CUPE family and in all our communities.