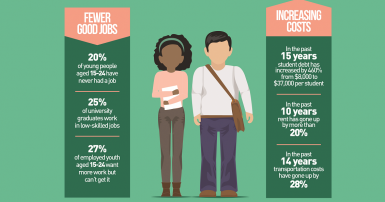 Tria Donaldson | CUPE Communications
Engaging young workers is an important part of having a strong local; but it can be hard for locals to know where to start.
That is why the CUPE Saskatchewan Young Workers' Committee has developed a four-part mentorship program designed to give locals a step-by-step guide to reach out to young members. The goal of mentorship is to increase young worker involvement at all levels of our union, to support that involvement, and to create an easy-to-use resource from which locals benefit.
"There are barriers to involvement from our generation. There is real value in supporting leadership development for our locals, for CUPE, and for the labour movement," said Lisa Worobec, the co-chair of CUPE's National Young Workers' Committee. "Mentorship is one way to create a respectful and deliberate way to share information, support each other, develop leadership and confidence, and then be able to go reach a point where you can step away as a mentor."
The program features four pamphlets. Each tip and tool sheet was created to be shared across CUPE locals in Saskatchewan and across Canada.
"Sometimes it can feel daunting for local executives to start this type of project," said Kent Peterson, alternate young workers' representative to the CUPE Saskatchewan executive. "Mentoring is a key aspect of a local's strategy to involve young workers and also plan for successorship to ensure valuable knowledge is not lost when members retire or move on."
The first phase of the project was to develop the resources. The project is moving into an implementation phase where locals will be encouraged to move forward with mentorship and succession planning.   
Time for a new deal for young people – calm.ca