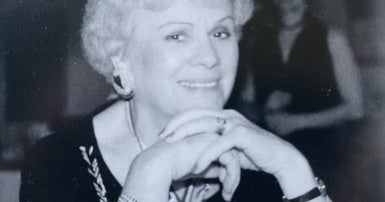 The CUPE BC family is mourning the loss of former president and secretary-treasurer Bernice Kirk, who passed away on Friday.
A fierce defender of workers' rights and public services who believed in the power of political action, Sister Bernice was a Coquitlam school board employee and CUPE activist who, after serving as president of CUPE 561, became CUPE BC's first full-time officer in 1979 when elected secretary-treasurer. She later served as CUPE National general vice-president.
During the 1980s and much of the 90s, Bernice presided over a period of growth that saw CUPE BC come into its own as a major force in the labour movement, a time that saw the Division change offices three times as its membership expanded by multiple thousands. She was also a key figure in CUPE's becoming the first public sector union to be affiliated with the BC NDP.
Along with presidents Muriel Overgaard, Owen Dykstra and Mike Dumler, Bernice first led CUPE members to the picket lines over wage controls and service cutbacks—and then over attacks on our bargaining rights by successive Social Credit governments. As co-chair of the Lower Mainland chapter of Operation Solidarity in 1983, she was deeply involved in the battle against the "restraint" budgets and anti-labour legislation of Premier Bill Bennett; four years later, she helped lead the fight against the union-bashing "Three Bad Bills"—Bills 19, 20, and Premier VanderZalm himself.
By the 1990s when she was CUPE BC president, the Korbin Commission into the B.C. Public Service and Public Sector led to the creation of employer councils. Bernice helped usher CUPE into an era of coordinated bargaining in which the union's members built on their strength in numbers by working together on bargaining priorities.
A true leader in the fight for pay equity and basic fairness, Bernice believed that the fight for women's rights brought dignity to all workers while building stronger communities.
"Through her decades of commitment and dedication to making life better for working people, Bernice made a huge difference in the lives of CUPE members, and all workers throughout B.C.," said CUPE BC President Karen Ranalletta. "She also helped pave the way for a younger generation of women in the union to step up and become activists and leaders ourselves. We truly owe her a great debt."
Bernice leaves behind her husband Merv, daughter Karen, son Brian, loving grandchildren, and many friends—including a dedicated circle from Local 561 with whom she continued to meet regularly after her retirement.
Details for a memorial will be announced shortly.