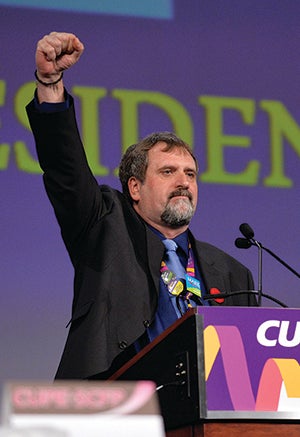 Greg Taylor | CUPE Communications
Mark Hancock became CUPE's sixth National President at the 2015 National Convention in Vancouver, BC, his home province. 
Mark has been a CUPE member since 1984. At 25 years old, he was elected president of his local, CUPE 498, Port Coquitlam Municipal Employees – a post he held for 15 years. 
He went on to sit on the CUPE BC executive board for over 12 years before being elected the division's Secretary- Treasurer in 2005. That year he was also first elected to the National Executive Board as the Regional Vice-president representing BC. After four terms as Secretary-Treasurer, he succeeded Barry O'Neil as president of CUPE BC April 2013. 
"My experience at the local and division have taught me that we need to keep having one-to-one conversations with our members," Hancock said. "We need to listen to each other and defend our public services, keep our workplaces healthy and safe, and protect decent paying jobs in our communities." 
An active member of the New Democratic Party, Mark was the first chair of CUPE's National Political Action Committee. He has also worked with CUPE's Global Justice Committee.