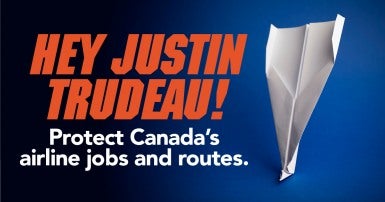 Hugh Pouliot | CUPE Communications
CUPE's flight attendant members took the fight to save their jobs into Prime Minister Justin Trudeau's back yard this winter.
After pleading with the federal government for action for nearly a year, CUPE's Airline Division launched its "Mayday" campaign in February, which saw a wave of billboards erected in Justin Trudeau's Montreal riding, and in the greater Toronto-area ridings of Finance Minister Chrystia Freeland and Transport Minister Omar Alghabra. The campaign also garnered over six thousand signatures in an online petition and featured a strong presence on social media.
Flight attendants are frustrated. Many have been unable to collect federal income supports because their airline denied them access, and they are worried that without federal intervention, there may not be an industry to return to once the pandemic is over.
"We've sacrificed a lot in this pandemic: our jobs, our health, our mental health, you name it," said Wesley Lesosky, President of CUPE's Airline Division. "We've done our part. We're now asking Prime Minister Justin Trudeau to do his."
CUPE represents about 15,000 flight attendants at nine different airlines across Canada – the vast majority were laid off when COVID-19 swept through Canada and grounded most flights. Most flight attendants are waiting and hoping for a return to work.
Visit MaydayJustinTrudeau.ca to add your voice to the campaign today.