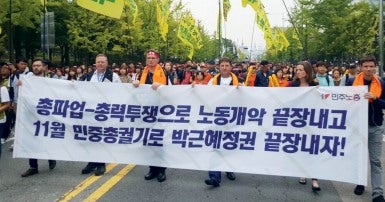 Right-wing labour reforms that led to serious attacks on trade union rights, freedom of peaceful assembly and association, motivated mass mobilizations in South Korea in 2015. CUPE responded with messages of solidarity for our trade union sisters and brothers and we condemned the Korean government for conducting raids on several union offices and arresting and detaining important labour leaders and workers at that time.
A historic public sector general strike followed in September 2016, in defiance of increasingly aggressive labour reforms, specifically the imposition of performance-related pay in the public sector. In the largest public sector mobilization in their history, tens of thousands of workers across the public sector walked off the job on September 26, 2016. CUPE was there as part of an international delegation and stood with the workers in the streets of Seoul.
CUPE National Secretary-Treasurer Charles Fleury said at the time, "The South Korean government attacks on trade unions, the public sector and the right to demonstrate are totally unacceptable. It is important for CUPE to be in South Korea and express our members' solidarity with the public sector workers. Their fight for public services and democracy deserves our full support."
Our commitment to building international solidarity with our sisters and brothers on the front line in South Korea is very important as we challenge neoliberal and anti-worker attacks.