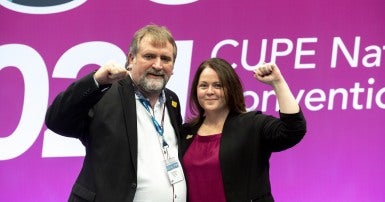 Delegates at CUPE's biennial convention have re-elected Mark Hancock as their National President, and elected Candace Rennick as their new National Secretary-Treasurer.
Hancock was acclaimed to a fourth term as National President, a role he has served in since 2015. He became a CUPE member in 1984 and served fifteen years as President of CUPE Local 498 representing municipal workers at the City of Port Coquitlam, British Columbia.
"To all our delegates and all our activists, thank you for placing your trust in me," said Hancock. "It's an honour and I promise to continue working hard for you."
Rennick has been a member of CUPE since she began working at a long-term care facility when she was 16 years old. At the age of 19, she became a local union steward and a bargaining committee member, and at the age of 22 she became president of CUPE Local 2280 representing long-term care workers in Peterborough, Ontario. She has served as Secretary-Treasurer of CUPE's Ontario division since 2010.
"I am truly humbled and honoured to be CUPE's ninth National Secretary-Treasurer, and the first woman in twenty years to hold this position," said Rennick. "I'm excited to start working with all of you, because together we have ground to break and victories to win."