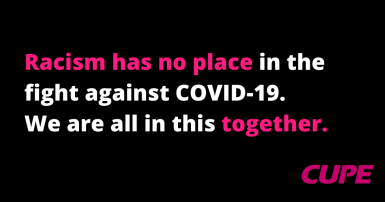 A new survey reveals many health care support workers on the front lines of the COVD-19 pandemic are experiencing anti-Asian racism.  
It's one of the findings of a CUPE membership survey of 1,877 health care workers in Manitoba.  
One in five members responding to CUPE's poll who self-identified as being of Asian heritage have personally experienced racism/bigotry in the workplace in the past month. Comparatively, only one per cent of respondents who did not identify as being of Asian heritage reported experiencing racism at work in the same time period.
"Racism in the workplace and in the community is not acceptable – ever," said Debbie Boissonneault, President of CUPE Local 204, representing health care support staff in the Winnipeg Regional Health Authority (WRHA) and Shared Health. "Our Union stands with all front-line health care workers who are experiencing racism. CUPE is calling on all Manitobans to confront racism in the workplace, at home, and in the community," said Boissonneault.
Over the past several months, anti-Asian racism and xenophobia have spiked across North America in the context of the outbreak of COVID-19. This spike is a pattern of refueled racism towards the Asian population, much like what transpired during the SARS pandemic.
CUPE Manitoba is amplifying health officials in making it perfectly clear that ethnicity, background, or country of origin have nothing to do with COVID-19, in fact it is often marginalized communities that bear the brunt of pandemics due to systemic or institutionalized discrimination and colonization. "There are other curves we need to flatten besides COVID-19," said Abe Araya, President of CUPE Manitoba. "Manitoba is not immune to racism. But we can fight it together."
CUPE is urging members facing any form of harassment, discrimination and/or racism to contact their employer, and let CUPE know. "CUPE does not tolerate racism or discrimination, and our union is dedicated to supporting our members who are targeted by ignorance and hate," said Araya.
The online survey was conducted between March 30 and April 5. CUPE invited members to participate through email and member only CUPE Facebook pages.
Respondents are CUPE members, and work in the WRHA, Shared Health, Northern Regional Health Authority, and Southern Health-Santé Sud. The survey also showed health care support workers are not getting enough training, personal protective equipment, or support from the government.