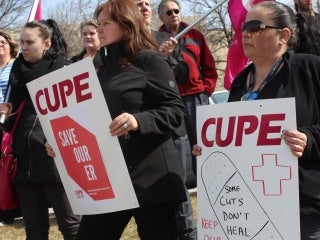 CUPE Manitoba is concerned that the provincial budget announced on Tuesday, April 11th leaves the door open for the unchecked privatization of public services and programs, while eroding existing public services.
The government recently announced that current P3 Accountability and Transparency legislation will be eliminated, and echoed this move in this budget.
"This government insists that public transparency and accountability is a 'regulatory burden'", said Kelly Moist, President of CUPE Manitoba. "We believe the public has the right to know the details of private contracts that are receiving public dollars."
The budget's language of "new," "innovative," and "collaborative" approaches to the government's long-term care investments is also concerning, considering this language is often double-speak for privatization.
"The province must invest in more public personal care home spaces and reject for-profit beds," said Moist. "As more and more Manitobans move into personal care homes, we need to ensure a strong, fully public system is available to them so dollars go directly to the care Manitobans deserve, instead of private profit."
There is no clear commitment that the 501 new childcare spaces announced in the budget will be fully public.
CUPE is also concerned with the continued emphasis on Social Impact Bonds as a medium to deliver public social services and programs.
"While the budget references a 'Made in Manitoba' Social Impact Bond program, there is very little detail in what programs and services will be affected," said Moist. "We are pleased however that the government is interested in supporting community Social Enterprises and hope the government continues to support community-led initiatives and leaves private for-profit corporations out of it."
"The government has already broken its promise to protect public services and the workers who provide them, by closing ERs, laying off hundreds of Hydro workers, and imposing wage freezes on workers, province-wide" says Moist. "We need to strengthen, not cut or privatize our programs and services and this budget does not give us much confidence."