A story from JR Simpson, education support worker in Saskatoon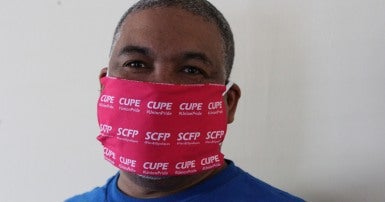 Support workers in the Greater Saskatoon Catholic School Division have always been there for students and their families. When the COVID-19 pandemic shut down our schools, we became an essential lifeline.
Safety is the most important thing for everyone. The school division set out guidelines so we can stay connected while keeping our members, students and their families safe with physical distancing, extra cleaning in the schools and proper use of masks, gloves and hand sanitizer.
Support workers from CUPE 2268 are stepping up in many ways and working side by side with teachers to keep students learning, starting by making sure students have the technology they need to connect. Our office coordinators are in daily contact with students and parents to make sure students who need a laptop or iPad get one and are sharing the information students need to continue their education.
CUPE education assistants (EAs) are coming into schools to put together packages of materials for students and are connecting with students through FaceTime and other online communication tools to help with assignments. They're also giving daily support to students who are new to Canada and learning English, as well as to students with special needs like autism. And custodians, members of CUPE 3730, are keeping school buildings clean with a stepped-up routine.
Our students are used to seeing us every day. When we go online, they're really excited to see us. EAs have also started safely visiting students at home, including driving by to visit students with special needs, always practicing physical distancing. Connecting in person for simple things like a walk is making a big difference.
CUPE 2268 members are also supporting students who were getting breakfast and lunch at school before the shutdown. Cafeteria and other support workers are packing and distributing food hampers, following protocols to keep every step safe. EAs are dropping hampers on doorsteps, then calling the family so they know it's there. This daily nutrition support is really helping students and their families.
There's so much appreciation for our members' hard work. It shows how important support staff are, and everything we do. We do so many things that people might not see or think about. Kids need that extra help.
JR Simpson is an education support worker and member of CUPE 2268 who works with students with special needs. He's also a custodian and member of CUPE 3730. He is a shop steward for CUPE 2268 and a trustee for CUPE 3730.