Sarah Jordison | CUPE Communications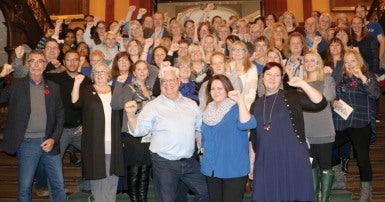 Thanks to the work of CUPE Ontario's long-term care workers, seniors living in long-term care are now closer to a minimum of four hours of daily hands-on care.
Bill 33, the Time to Care Act, passed second reading thanks to all party support for an NDP private members' bill that would legislate the minimum care standard.
"Right now, we have five to ten minutes to help a resident with their morning routine. That includes waking, washing, dressing and use of the commode. Imagine if you only had ten minutes for all those activities. Then imagine you are 82 years old with mobility issues," said Andrea Legault, a personal support worker of 19 years. "We are literally forcing seniors into incontinence because we can't get to them when they call. Our residents deserve better than this. We expected more from this government."
"This bill will protect the health and dignity of our seniors," said Candace Rennick, Secretary-Treasurer of CUPE Ontario and a former long-term care worker who worked directly with the NDP to draft the bill. "If we are going to protect our most vulnerable citizens, a minimum care standard is a must."
Currently in Ontario, the only legal guarantees are one on-site nurse 24 hours a day, and two baths a week. Canada has the lowest care levels among countries with equivalent economies, and Ontario has the lowest in Canada.
There are more than 78,000 people living in the province's long-term care homes. The majority of residents are over 85, almost three quarters have some form of Alzheimer's or dementia, and the vast majority have mobility issues.
CUPE Ontario's long-term care members have been campaigning for these changes for many years, holding community rallies, and bake sales, and building coalitions with family groups. Together they collected close to 70,000 signatures supporting the bill and know of at least 5,000 letters sent to MPPs asking them to vote for the bill.
"It's not acceptable that our loved ones, the people who spent their lives building our province and caring for our communities, are now being neglected in their final years. We have been working hard to get the government to take action on this," said Rennick. "Getting the bill past second reading is a big win. Now we just need to make sure the government acts swiftly to bring it to final reading and pass it into law."