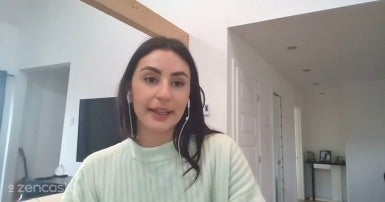 According to Maïtée Labrecque-Saganash, an activist for Indigenous rights and an information officer for the Cree Board of Health and Social Services of James Bay, there is an era before Joyce Echaquan and an era after. The latter, an Atikamekw of Manawan, filmed herself just prior to her death in a Joliette hospital. In the video, she is seen pleading for help, as a barrage of insults rained down on her. 
"The claim that systemic racism only affects English Canada is false. However, the Government of Quebec denies it exists, but Joyce Echaquan's video opened many eyes. Systemic racism is tangible and measurable, but in spite of this, the government struggles with the idea that it is experienced by Indigenous communities," said Maïtée Labrecque-Saganash in a video presented on the floor of the Convention. 
The young activist knows of which she speaks, as she is working in a community in Quebec, which negotiated the first modern treaty reached with an Indigenous group in Canada. It gave the Cree nation and the Cree in Eeyou Istchee a wide range of powers, including the management of natural resources, the administration of justice, economic and social development, education, local government and health and social services.
"The problem is that the Cree nation extends from Quebec to British Columbia, but the community just on the other side of the border does not benefit from the treaty because of the colonial border between Quebec and Ontario," said Labrecque-Saganash.
Is there a role for unions?
In conclusion, Maïtée Labrecque-Saganash explained that, during the course of her daily work, she gives training to members of Indigenous communities so that they can more effectively navigate the Canadian and Quebec systems.
"We have rights. Whether we're talking about the prison system or the health care system, we simply have to find out what these rights are. Unions can support Indigenous communities by offering them resources for training. And those taking this training can, in turn, pass this information on by informing other members of their community," she said.