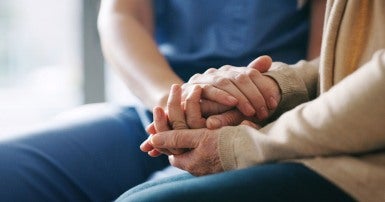 When it comes to long-term care, newly released research from Australia shows that public facilities offer better care and better resident outcomes than private for-profit facilities. The quality of care and quality of life for seniors is higher, and working conditions are significantly better in public facilities.
The research bolsters what CUPE has been saying for years: the number one concern in long-term care facilities should be quality of care, not profits for shareholders. It is why CUPE is campaigning to fix long-term care, by removing the profit motive from the system and promoting the public ownership and operation of homes.
The report from Australia's Royal Commission into Aged Care Quality and Safety examined more than 50 quality indicators to compare not-for-profit, for-profit and publicly run facilities. The indicators include clinical outcomes, malnutrition and premature death, the use of drugs and restraints, compliance measures, resident complaints, healthcare or personal-care complaints, the reporting of assaults and missing residents, food quality, safety, staff competence, and staffing levels. 
In Australia, around 57 per cent of long-term care facilities are operated by not-for-profit organizations, while 34 per cent are operated by for-profit companies. An additional 9 per cent are publicly operated.
The results from Australia are crystal clear. Compared to for-profits, public long-term care homes provide more direct nursing care, have lower levels of falls, and have mandated minimum staffing ratios. They leave no doubt that public long-term care homes perform the best when it comes to caring for seniors, while for-profit homes place residents at greater risk.
It is time for our provincial and federal governments to cooperate with one another to make the systemic changes that are desperately needed across Canada's long-term care sector. The research from Australia, and two decades of research before it, is conclusive: part of the solution to fixing the problems must include the elimination of profit, and the creation of a fully public long-term care sector.