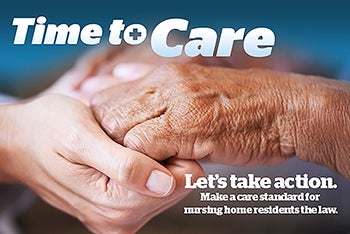 Stella Yeadon | CUPE Communications
Make a care standard for nursing home residents the law.
To provide better care and keep residents safer, long-term care (LTC) workers in Ontario have actively advocated for a legislated four hour daily care standard under the Time to Care campaign banner. They say the Ontario government is failing to protect vulnerable residents by not increasing staffing levels and it is not taking action against increasing violence in nursing homes, including patient-on-patient violence. Understaffing also creates excessive workloads that hamper front line staff 's ability to provide compassionate care to residents.
Now two recent reports agree with them. One report from the Ontario coroner's office that says that between 2013 and 2014, 13 residents were killed by homicide, at the hands of another resident. The other report from the provincial auditor general notes that a lack of staff and training have hindered long-term care homes' ability to comply with government orders following complaints.
"The increase in the number of complaints reflects a system in turmoil," says Kelly O'Sullivan, chair for Health Care Workers Committee. "The number of deaths by homicide should be the catalyst for change and spur the province to act and make a daily care standard the law. We are doing all we can to bring the issue to the government's doorstep."
Learn more about the LTC campaign at cupe.on.ca/time-to-care-long-term-care.