Workers locked out of their jobs at Nipissing and Parry Sound children's aid society (CAS) expressed their shock and dismay at the cancellation of Tuesday's meeting of the agency's board of directors.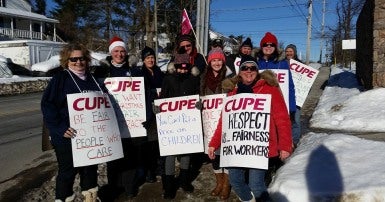 The announcement was posted on the website of Nipissing and Parry Sound CAS late last week, citing "the ongoing labour disruption" as the reason for the cancellation.
Board meetings take place monthly from September to June and members of the public can attend, provided they give the required notice.
"This is a very troubling decision on the part of Nipissing and Parry Sound CAS," said Fran Bélanger, national representative of the Canadian Union of Public Employees (CUPE), which represents the frontline, administrative and support staff locked out of their jobs on December 23.
"Not satisfied with locking out its workers, the CAS now seems to be locking out the region's residents – members of the public who are demanding answers about the safety of children and youth in our communities; and individuals who want to know the real story behind the lockout of CAS employees."
CUPE representatives contrasted the CAS's approach to community relations with the union's own "Pay It Forward" campaign, which is a vehicle for locked-out children's aid workers to demonstrate their commitment and gratitude to the communities that support them.
Last week locked-out workers organized significant donations of food and cash to food banks in Parry Sound and North Bay, and the week before collected pet supplies for the North Bay Humane Society.
"A meeting of the CAS's board of the directors is an opportunity for exchange between those who are responsible for child protection services in the region and the people who rely on those services – and who ultimately fund them," said Bélanger.
"Cancelling the board meeting gives every indication that Nipissing and Parry Sound CAS – a provincially funded agency – is trying to keep the public in the dark. CUPE will be asking the Ministry to review the CAS's actions."