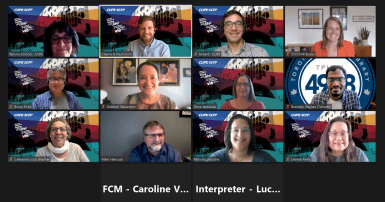 On Monday, May 31, CUPE National president Mark Hancock moderated a special conference session that featured  a "living library" of CUPE library workers from across the country, who presented stories of how they and their colleagues continued to serve their communities during the COVID-19 pandemic. 
"Library workers punch well above their weight," said Siobhan Stevenson, a University of Toronto professor, who was part of the CUPE living libraries workshop at the Federation of Canadian Municipalities (FCM). Professor Stevenson highlighted the long history of public libraries pivoting – literally "on a dime" – to address community needs. She stressed the importance of funding our public libraries especially during a crisis.
Brandon Haynes, the President of CUPE 4948 at the Toronto Public Libraries, described how his members were critical in providing food bank and vaccine site support, as well as reworking important library services for remote access. Patricia Larouche, CUPE 3423, described how the new online services introduced by her library system in Trois-Rivières, Québec, are being replicated across the city and the province. Bruce Fiske, a social worker at the Winnipeg Millennium Library, and a member of CUPE 500 urged the FCM attendees to think about a broader range of library services, such as connecting residents to the critical city services they need. And Denise Parks from CUPE 402 gave an impressive report on the online resources the libraries in Surrey BC have produced over the past year to continue to serve their communities.
Vancouver City Councillor Christine Boyle also joined the session, encouraging her fellow municipal leaders to think about public libraries as "palaces for the people" – the vital social infrastructure that municipalities need in order to foster literacy, community, and social mobility.
The conference also featured NDP Leader Jagmeet Singh as a keynote speaker. Singh spoke of the need for the Federal government to provide tangible support to municipalities.
CUPE values its partnership with the FCM. Over the years we have supported each other's positions on Federal infrastructure funding, municipal financing, and green investments. The annual conference is a valuable platform for CUPE leaders and members to engage with municipal leaders from across Canada.