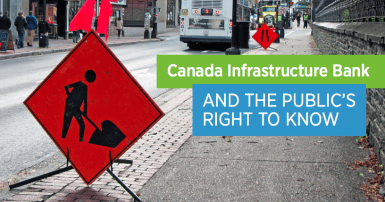 A new report warns that the Canada Infrastructure Bank will keep the public in the dark about the true costs of its privatized megaprojects.
The Canada Infrastructure Bank and the public's right to know reports on the public's right to access information about privatization projects, and the potential impact of the Canada Infrastructure Bank (CIB). The report was published by the Columbia Institute during national Right to Know Week.
Existing laws restrict access to information about privatization. The report finds that federal and provincial information commissioners are raising concerns about transparency when private corporations deliver public services and infrastructure.
Access to information requests submitted to governments about P3 and other privatization projects are "often denied, delayed or redacted. This erodes the transparency and accountability needed for the functioning of a healthy democracy," warns the Institute.
Legislation creating the CIB creates new restrictions – and penalties for disclosing information. This will make it even more difficult for the public to see and assess the true costs of privatization deals brokered through the bank. Yet the bank is being established with $35 billion in public funds, and will trigger potentially billions more in public payments to private projects over the coming decades.
The bank represents several broken Liberal promises. The 2015 Liberal platform promised to create a bank that would provide low-cost financing to municipalities, and pledged to increase openness in government. In June, the Liberals introduced reforms to access to information in Bill C-58. However, the reforms do not cover the many ways that privatization's true costs are hidden from public scrutiny.
CUPE has long fought for access to the full details of privatization deals, particularly public-private partnerships that are justified using a biased and secretive evaluation process. The private sector's claims of "value for money" can't be proved, as key details are blacked out of any documents that are made public.
When CUPE and other independent evaluators do gain access, the facts show privatization costs more. An Ontario auditor general study of 74 P3s found there was "no empirical evidence" to justify the projects going ahead as P3s.
The report has three recommendations that would apply to the Canada Infrastructure Bank, and any privatization projects it brokers or funds:
Private corporations delivering public services or receiving significant government funding should be fully covered by access to information laws.
Governments should routinely publish detailed information about the goods and services they purchase.
Governments should develop standards for releasing information shared with a cabinet, with information commissioners making the final decision about releasing cabinet documents, if there is a complaint.
Find the report online here.
As part of our ongoing work to promote the value of publicly-delivered services, CUPE helped fund the production of the Columbia Institute report The Canada Infrastructure Bank and the public's right to know.