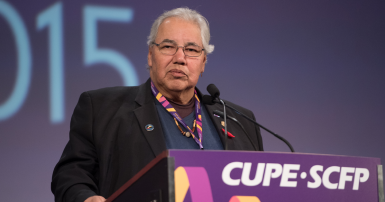 Justice Murray Sinclair, chair of the Truth and Reconciliation Commission, gave convention delegates an in-depth and emotional presentation on the history of Canada's Indian Residential Schools system, and it's devastating legacy for survivors, their families, Indigenous nations and Canada.
"This issue will define us going into the future," said Sinclair. "This will be an opportunity for us as a country to move forward from what can only be called our greatest tragedy."
Sinclair recounted Canada's colonial history and the devastating effect it has had on Indigenous peoples. He highlighted the treaty relationship between Canada and First Nations, in particularly in relation to education.
While First Nations saw education as a right when the treaties were first signed, the Canadian government at the time, and throughout history since, have seen education as a tool for assimilating First Nation children.
"I could tell you in excruciating details of the stories of residential schools survivors they tell of the abuse they suffered. We can hear the stories, but we can never really understand," said Sinclair, before introducing a video of a survivor's testimony during the Truth and Reconciliation Commission.
While a tragic and long chapter of Canadian history, Sinclair emphasised the need for reconciliation between First Nations and Canada. He told delegates the work will be long, and ultimately will be up to future generations to fully achieve.
"Reconciliation will not occur overnight. This is not just a problem for Aboriginal people; it is a problem for the entire country," said Sinclair.  "Canada has a shameful past. But we don't need to carry this shame any further, as long as we commit to a relationship of mutual respect originally envisioned in the treaties."