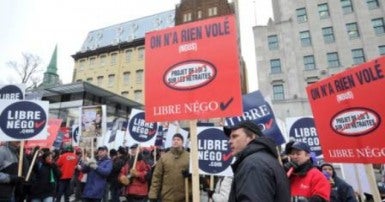 A first step towards the protection of our basic rights
CUPE is happy with the first decision by an arbitrator appointed under the new provisions of Bill 15, which imposes the unilateral restructuring of all municipal-sector pension plans. CUPE Quebec, which represents about 70% of the province's municipal blue-collar, white-collar and professional employees, had filed a legal challenge involving some 80 requests and more than 150 local unions affiliated with CUPE.
CUPE Quebec and the various unions representing all municipal employees, agreed to join their voices during the first motion filed against Bill 15. However, the motion involving the Montreal police was the first to be heard. The arbitrator granted their request to suspend arbitration until the Superior Court rules on recourse challenging the constitutionality of Bill 15. The unions' assertions about the unconstitutionality of the Bill must have finally reached the ear of the Government. The adjudicator notes in his decision that the issues regarding rights are serious. Moreover, he states: "Until the Superior Court has ruled on the questions before it, there is no clear legal basis for my intervention or decision."  The Government must now take note.
"The situation is serious. This is just an initial ruling. We won't start celebrating yet, but it should be noted that fundamental rights are the key issue. We are confident that the courts will restore balance in the face of this unjust, unconstitutional legislation. Meanwhile, we will pursue our efforts to ensure that the motion be heard as quickly as possible. Neither the public nor the members that we represent have anything to gain from a long drawn out legal process," noted Marc Ranger, Director of CUPE Quebec.  
"We will exert every effort, together with the associations and brotherhoods of police and firefighters, and our other partners, for the case to be heard as quickly as possible. We encourage the government and the municipalities to do the same," added Denis Bolduc, General Secretary of CUPE Quebec.

CUPE Photo Archives. Louise Leblanc