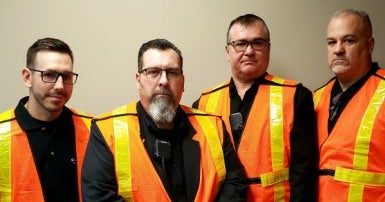 The situation continues to worsen at the Lac Leamy Casino where the some 90 security guards and surveillance technicians have reacted angrily to the flagrant lack of respect shown by the employer throughout negotiations to renew the collective agreement.
The union maintains that the employer has been intransigent and has not negotiated in good faith or been transparent.
For months, employees have been seeking recognition of the atypical nature of their work. In particular, the presence of a discotheque inside the casino is one of the factors behind the union's repeated demands to re-evaluate the guard positions and amend the internal security procedures through the addition of staff and equipment needed to perform their duties.
In spite of repeated requests to this effect since 2017, the employer did not believe there was any need to re-evaluate these positions. It preferred to deny everything and settled instead for managing the risk from day to day.  
"Since the discotheque opened, there has been a spike in the number of responses requiring physical force by guards. We have to contend with customers who are impaired and often aggressive; and at times, knives turn up. Our statistics show that there are more responses of this type at the Lac Leamy Casino than any other Loto-Québec casino," stated Michel Despatie.
Following the employer's refusal to recognize the hazards confronting its employees, the union filed a request to intervene to the CNESST to force the employer to take its employees seriously.
It is to be noted that, in 2014, the union and the employer agreed to re-evaluate the security guard positions, which was finally completed in 2016. This evaluation revealed that the guards were being underpaid for the work they were required to do. The employer then simply rejected the findings of this re-evaluation.
The union is also denouncing the numerous security-related cuts that have only increased the risks to the workers' health and safety.
Last April 16, the membership unanimously voted in favour of pressure tactics up to and including strike action. The collective agreement expired on April 1, 2018.
"All we want is to negotiate in good faith where the employer will take into consideration the hazardous nature of our work, take the required corrective action, and acknowledge the work that the surveillance technicians and the security guards do. We want to be treated fairly and head off a tragedy," added CUPE representative Stéphane Paré.