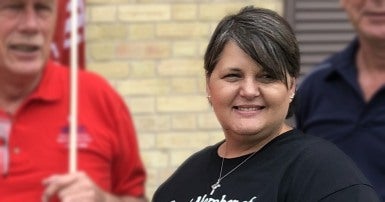 Emily Turk | CUPE Communications
To ask Jennifer Kirby if the opioid crisis impacts her work seems an almost ridiculous question. Kirby works with Brant Family and Children's Services (FACS) in Brantford, Ontario, a community with the second-highest rate of hospitalizations for opioid poisonings in all of Canada.
Brantford, a city of roughly 100,000, is caught between two particularly frightening realities: the opioid crisis and Doug Ford's cuts to social services. In the year since Ford's government was elected in Ontario, they have made drastic cuts to everything from income support programs to autism services. "All of our service providers out there are struggling with this crisis," says Kirby, president of CUPE 181. "And when you add the complexity of trying to protect kids onto that, it's become almost impossible."
Like most children's aid societies in Ontario, Brant FACS has been chronically underfunded for years, but Ford's cuts have hit the agency especially hard at this vulnerable time.
"When you look at the number of kids coming into care, specifically based on [parents'] opioid use, we're looking at close to 30% of our cases," Kirby says. "We've also been impacted by the complexity of these files. We've had a young child die from touching fentanyl. We've had a boy found in his house next to his father who had overdosed on the floor. So, when you look at doing child welfare work and protecting kids, it's become so much more than what it used to be."
For Kirby, a community development and family support worker for over two decades, times have never been more desperate. "There are no breaks anymore. We are just running full-tilt," she says. "People are stressed and getting to a point where they're trying to maintain standards and their mental health is suffering."
In March, Brant FACS was forced to lay off 26 staff due to Ford's cuts, and they anticipate further funding reductions. Kirby says, "This is just the 'new normal'—those are the words we use around here—and knowing that funding is going to be cut further has just added to the stress."
Stripping resources from a public service that is already resource poor in the midst of an opioid and fentanyl crisis is pushing Kirby and her colleagues to their emotional and physical limits. She says many of her colleagues struggle to sleep at night, worrying about the children in their care.
"We want to keep families together. Unfortunately, this opioid crisis is pulling kids out of homes instantly because it is such high risk and high danger. So, you have that internal ethical conflict of 'this isn't why I chose to do child welfare,'" she says. "I want to help kids, I want to protect kids, and I want to help families. And this is just tearing them apart."
Kirby and her colleagues have been pleading with their MPP for the resources necessary to support the most vulnerable in their community, sending letters and requesting a meeting with the minister, which was denied.
"We don't have the resources to be able to service these families. So, that means kids are coming into care because we don't have the services to be able to assist them staying home. The system gets overloaded. Workers' caseloads go up." Kirby says it's an uphill battle, "You're spending more and more time doing crisis work than you can helping these families—especially those who are working through this opioid crisis."
Despite low morale and a difficult road ahead, Kirby is encouraged by the public protests against provincial cuts and draws strength from her fellow CUPE members. "People think that they're struggling alone. But knowing that everybody is dealing with this crisis—my sisters and brothers in healthcare, in the municipal sector, and in long-term care facilities—it brings us together to fight. And I think that CUPE is moving in the right direction."
Photo: CUPE Ontario