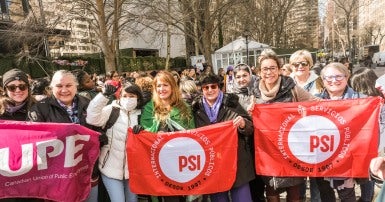 On CUPE's 60
th
anniversary, we're looking back at the importance and impact of our international solidarity work. From day one, building alliances with labour and social movements in other countries has been a priority for our union.
At our founding convention in 1963, delegates voted to join Public Services International. Affiliating with the global federation of public sector unions united our members with workers struggling against military and colonial rule, facing arrest for being union activists, and striking for decent wages and the right to form a union.
Our international work is grounded in building worker-to-worker solidarity because when we unite across borders, we are a powerful force. Over the years, CUPE members have organized for peace and opposed apartheid, and have backed workers and social movements fighting for their rights and defending vital services. Those struggles continue to this day.
There is strength in solidarity. And there is so much that needs to change in the world today. While we may be emerging from the pandemic, the soaring cost of living and unbridled corporate greed is worsening the collective trauma many are facing.
The impact of war and occupation is unbearable for many in Ukraine, Palestine, Burma, Yemen, Syria and Sudan. Along with war, the climate crisis and poverty are fueling migration. Activists and communities defending public services, land rights, democracy and justice are fighting for their lives and liberation.
These are enormous challenges. But we are not facing them alone. We are deeply inspired by recent global uprisings and strikes including in Iran, France, the United Kingdom and Haiti. We are proud to continue the work that began six decades ago, building unbreakable connections with social movements and unions around the globe. Here's to the next 60 years of building a better world. Solidarity forever!