CUPE is celebrating a major award for France Castro, a representative of one of our partner organizations in the Philippines, from the Alliance of Concerned Teachers (ACT). Castro is currently an elected member of Congress.
Castro is receiving the Arthur Svensson International Prize for Trade Union Rights today. A former public school teacher and ACT secretary general, Castro is a tireless defender of teachers' rights to decent work. She is also a strong advocate for students' and Indigenous peoples' right to free public education.
It takes courage to defend workers' and human rights in the Philippines. The International Trade Union Confederation ranks the Philippines among the 10 most dangerous countries in the world to be a trade unionist.
CUPE has worked closely with ACT for over a decade. She has visited Canada and taken part in several CUPE gatherings. A delegation of CUPE leaders and members met with Castro during a visit to the Philippines last fall.
On the heels of our visit, Castro was detained along with several other people. They were participating in a humanitarian mission in an area of the country that's under martial law. The group was visiting students and teachers from a school that had recently been forcibly closed by the Philippines Armed Forces.
National President Mark Hancock and National Secretary-Treasurer Charles Fleury wrote to Philippines President Rodrigo Duterte calling for her immediate release, along with all others detained with her. She was released and is safe, but the threats and repression continue. CUPE is calling for an end to martial law and the military occupation of communities.
The award announcement praises Castro for her leadership in and out of Congress. She has successfully pushed to expand maternity leave, opposed neoliberal economic reforms and demanded higher wages. She has also fought to protect young people from being targeted in the government's "war on drugs," and opposed mandatory military reserve training in high school.
The announcement recognizes that "trade unions are under fierce pressure all over the world. When inequalities and the pressure on democratic rights increase, it is the workers and the trade unions who often are the first victims, as they are the most important defenders of democracy and just distribution. In this fight, we need tough and brave leaders like France Castro."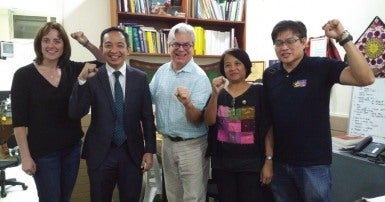 Members of CUPE delegation to the Philippines meeting with France Castro, November 2018. L-R: Kelti Cameron, CUPE International Solidarity Officer; Antonio Tinio, ACT Partylist Congressperson; Fred Hahn, CUPE Ontario President; France Castro, ACT Partylist Congressperson; Ferdinand Gaite, COURAGE National President.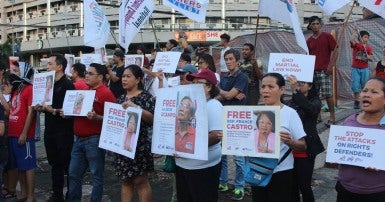 Demonstrators call for France Castro and other education activists to be released after they were detained by the military in November 2018.