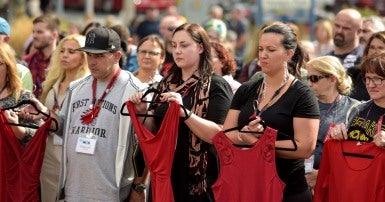 Employees at the Indigenous Women's Healing Centre in Winnipeg have ratified their first collective agreement with CUPE 2348.
 "We are excited that this group now has the protection of a CUPE collective agreement," says Allen Bleich, CUPE National Servicing Representative. "What's more, this collective agreement has important contract language that recognizes traditional Indigenous ceremonies as a workplace right for staff."
The new language, Article 21.13 Ceremonial Leave, allows "employees wishing to take part in traditional Indigenous ceremony(ies) such as a Sundance or healing ceremony up to four (4) paid working days leave per calendar year, provided that such leave is authorized by the Employer in advance."
The four days leave for Indigenous ceremony was a workplace policy prior to negotiating the new collective agreement, however, moving the language from policy to being enshrined in the legal contract is an important step to ensuring these days cannot be taken away should management ever change.
"We are proud that our CUPE negotiating team bargained this important language into our contract," says Joan Hay, Shop Steward for CUPE 2348 at the Indigenous Women's Healing Centre. "Reconciliation includes ensuring that our workplaces recognize Indigenous culture and tradition, and I am proud to be part of a member-driven union where we can prioritize and include Indigenous perspectives and traditions into our bargaining."
The new contract also recognizes June 21, National Indigenous Peoples Day, and September 30, National Day for Truth and Reconciliation as paid holidays for staff.
 Including Indigenous traditions into collective agreements is not uncommon in CUPE, with language ranging from the inclusion of Indigenous Elders in the grievance and mediation process, to recognizing Indigenous bereavement practices.
The Indigenous Women's Healing Centre works to support and strengthen Indigenous women and others on their journey of healing and recovery from family violence, addictions, intergenerational issues, and institutionalization.
CUPE represents approximately 40 staff who work as case managers, counselors, residential support workers, maintenance, practical skills workers, healing plan coordinators, facilitators, mentors, and cultural support workers.
CUPE, as an organization, continues to learn, adapt, and grow in the journey towards true reconciliation. Contract language is one step; still we recognize that addressing the long-term impacts of colonization takes meaningful partnerships and continued action.