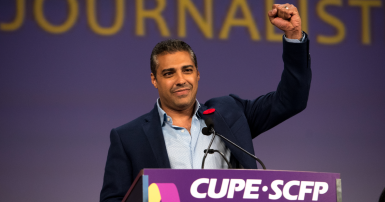 Convention delegates gave former Al Jazeera Cairo bureau chief and award winning Canadian journalist Mohamed Fahmy a hero's welcome on Thursday as he delivered one of his first major addresses since being pardoned by Egyptian President of the bogus charges that saw him imprisoned for more than 400 days.
Fahmy thanked CUPE and National President Paul Moist for CUPE's efforts to help him win his release, and said the worldwide movement to support him was key to his pardon and return to Canada.
"This convention is democracy in action," Fahmy said. "People all over the world quite literally have died fighting for the right to assemble and express their opinions, and the opportunity to address you is absolutely inspirational to me."
While Fahmy was awaiting his retrial in Cairo he and his wife Marwa Omara established the Fahmy Foundation. The Foundation's purpose is to champion free speech and fight the suppression of the press and to advocate for the more than 200 journalists currently imprisoned by regressive governments around the world.
CUPE National President Paul Moist said that Fahmy's ordeal is just one example of the dangerous conditions journalists and activists face in many countries. "Mohamed Fahmy is a real hero. No one should ever have to face the ordeal he's undergone, and it's in part due to the efforts of our union and our members that he's finally free and home in Canada."
The Foundation is inspired by the unprecedented global support of millions of people who supported Fahmy since his arrest in December 2013 and during his subsequent 438 days of incarceration in Egypt on bogus terrorism charges. "Too many journalists are being wrongly thrown into prison, effectively silencing their voices," said Fahmy. "Hundreds of support letters lifted my morale in prison, yet equally important was the money donated by honourable people and media defence organizations alike. Only then, was I able to pay the majority of my legal fees. Our mission is to give back, advocate for and financially support imprisoned journalists and their families." 
For more information on the Fahmy Foundation, visit www.fahmyfoundation.com.