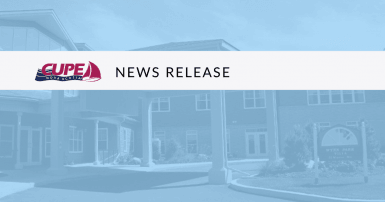 "The 'flexible legislation and regulatory regime' and 'person-centred approach' mentioned in Houston's plan are code words often seen when governments intend to change our public health care to an unequal, do-it-yourself system. Meanwhile, they relieve themselves of more and more responsibility, deregulate the system, and hand over control to private companies," says Nan McFadgen, president of CUPE Nova Scotia.
"Our health care system is in crisis, and we all know that improvements are needed fast. However, improvements must be made within our 'public and universal' health care system," says McFadgen. "The backlog of surgical procedures, and other treatments, need to be taken care of in the public system, and not by contracting out to for-profit corporations."
"Once again, the government has not recognized that health care is delivered by a team by failing to allocate funds for wage adjustments for staff, in all job classifications working in hospitals, nursing homes, and community care. By not extending a wage adjustment to all job classifications, the province is not recognizing the value these workers provide," adds McFadgen.
The Houston government's plan underscores the importance of "public" sector solutions. CUPE members want to be part of the solution, proposing real improvements to the system, and ensuring that "all" our members are treated with respect.