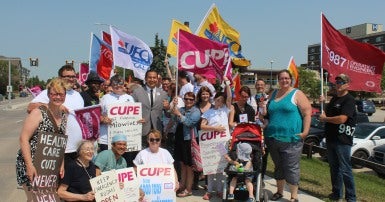 Health care support workers held coordinated noon-hour information pickets on July 18 at Grace Hospital in Winnipeg and Middlechurch Home in West St. Paul, Manitoba, to protest against the provincial governments cuts and changes to health care.
"We are very concerned that the government's reckless changes will negatively impact patient care," said Debbie Boissonneault, President of the CUPE Provincial Health Care Council, and support worker at Grace Hospital.
"Health care workers are already overworked and understaffed, our community hospitals and care homes need more support not less."
Cuts at the Grace Hospital include the closing of the Transitional Care Unit, privatization of outpatient physiotherapy, the loss of the community mental health program, major changes to shift rotations, and the privatization of food services.
"Manitobans didn't elect Brian Pallister to close ERs and gut our health care system," said Boissonneault. "The government is cutting programs to try to make their finances look good, they don't seem to care what impact these cuts will actually have on patients or residents."
"To top it off, the government is forcing Grace Hospital to privatize our cafeteria, which will surely result in lower quality food for families visiting their loved ones in care."
Middlechurch Home will also be losing its in-house food services as a result of these changes.
"Residents at Middlechurch Home love the food provided by our in-house cook, dietary and kitchen staff," said Cynthia Penny, President of CUPE 3644, representing support staff at Middlechurch.
"We don't understand why the government would want to take this wonderful service away from seniors and residents at Middlechurch."
Hundreds of CUPE members, residents, patients, community members and other unions took part in the info pickets in a growing movement against the government cuts and restructuring of health care.