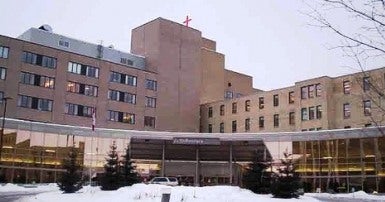 The union representing health care aides, dietary, housekeeping, maintenance, clerks, security, and more is calling on the Manitoba government to immediately provide support for staff at St. Boniface Hospital and other facilities, citing over two dozen heavy workload forms submitted by health care support staff in the past month alone.
"Health care support staff are crying out for help, but the government isn't listening," says Debbie Boissonneault, president of CUPE 204, representing support staff in the WRHA and Shared Health. "Health care support staff are the pillars of our health care system, and those pillars are crumbling under the weight of heavy workloads and short-staffing."
Between November 1 and December 10, twenty-nine heavy workload forms were submitted by support staff at St. Boniface Hospital alone, citing staffing shortages and the impacts these shortages have on patient care.
Heavy workload forms are a process whereby staff can submit an incident to the union, and the union then contacts the employer or supervisor to address the situation. Unfortunately, the employer has been unable to rectify a staffing crisis that affects most hospitals and care homes across the province due to inaction at the political level.
On November 4, a health care aide on the night shift at St. Boniface Hospital reported that he was the only health care aide for an entire ward of 31 patients, resulting in an inability to perform important duties including being unable to check many incontinent patients: "I had no time to give 85% of the patients' fresh water," noted the worker.
One health care aide reported on November 25 that "they did not have enough staff for the emergency department, and then one aide got pulled to a constant care (when a patient is monitored at all times) so there were even less of us." This resulted in call lights (when a patient requests help) not being attended to in a timely fashion. 
On November 30 a worker cited that being understaffed "is a normal day right now on the COVID positive unit," noting that staff miss their breaks, which leads to additional stress and exhaustion.
The shortage also affects the flow of patients in Admitting and Patient Registration, including in clinics. 
Staff in these departments noted that they are working short 95% of the time, resulting in patients missing appointments, delays getting patients into operating rooms, and inability to perform reminder calls to patients for their appointments.
"This is just the tip of the iceberg. Staff are burnt-out, morale is at an all-time low, and to top it off they haven't had a new contract for five years," said Boissonneault. "Health care support staff have been on the front-lines of this pandemic since day one, but the current state of our hospitals and care homes is unsustainable."
CUPE 204, along with CUPE Locals representing support staff in Southern Health-Santé Sud, Northern Regional Health Authority, and Riverview Health Centre requested an urgent meeting with the Honourable Audrey Gordon, Minister of Health and Seniors Care, on December 6, but have yet to hear back.
Concluded Boissonneault: "From admitting to discharge, patient care is suffering, and it is the government's responsibility to fix this now."