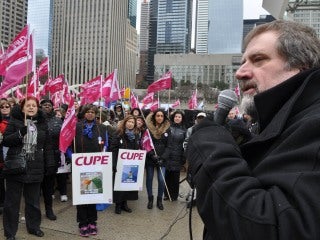 On a cold, snowy day, CUPE National President Mark Hancock warmed up a crowd in Nathan Phillips Square in support of more than 20,000 CUPE Local 79 members.
Brother Mark joined hundreds of Local 79 members, as well as their labour and community allies in front of Toronto City Hall for a lunchtime rally.
"We need the City of Toronto to be a leader in supporting good jobs, and you have the support of all our members," Hancock told the crowd.
Local 79 is working to rule in support of their efforts to secure a fair collective agreement with the City, which continues to demand concessions that would create more unstable, precarious work. Local 79's workforce is predominantly female, many of them part-time or temporary.
This afternoon's lunchtime event urged Local 79 members working at Nathan Phillips Square and other nearby City buildings to arrive en masse at the Square to 'Brown Bag it With 79'
In addition to encouraging members to take their full breaks and their full lunches, Local 79 members are also taking other steps to ensure they are not performing work for free when the City is demanding concessions.
Brother Mark was also joined by several Toronto City Councillors, CUPE Ontario President Fred Hahn, CUPE Ontario Secretary-Treasurer Candace Rennick, and Federal NDP Leader Tom Mulcair.