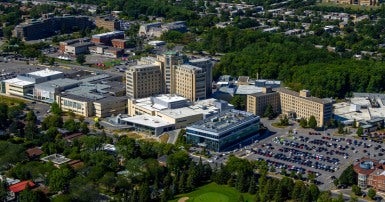 CUPE 5425, the union representing professional and technical personnel of the Montreal Island-East CIUSSS, has added its voice to those who greeted the announcement of the reconstruction of the Maisonneuve-Rosemont Hospital. When completed, this much-awaited project will significantly improve care and services to the public in a myriad of ways.
"We're quite pleased to see this project get off the ground. The new institution will be a game-changer for the east end, which has traditionally been shortchanged. However, we must remain vigilant until the project is fully completed. For starters, we'll have to see to it that its configuration fully meets the needs of patients and personnel, and ensure that the temporary relocation of care and services has the least possible adverse impact," said Marie-Hélène Brunet, president of CUPE 5425.
"We're aware of the fact there's a shortage of professional and technical staff in the east end, partially due to a lack of adequate work spaces, adequate home bases and closed offices that ensure patient confidentiality. The hospital reconstruction represents an opportunity to make the CIUSSS more attractive as an employer. However, it also runs the risk of dispersing and scattering services. We have to avoid a repetition of unfortunate episodes such as the closure of the pedopsychiatry services of the CIUSSS, "explained Brunet.
She therefore urges the management of the CIUSSS to consult with their union counterparts at each crucial stage of the project.
In addition, it worries CUPE to see Health Minister Christian Dubé use this reconstruction as a pretext for privatizing the public system in the east end of the Island.
"We were disturbed to hear the minister this morning talking about the role of the private mini-hospital in the east end while the work is under way. We know that these private hospitals will widen the gaps in the public system, worsen personnel retention problems, select the more straightforward and more lucrative cases and drain away public funding. As far as Dubé is concerned, the private sector seems to be there for good. It's a very bad idea," pointed out  Maxime Ste-Marie, president of the Conseil provincial des affaires sociales (CPAS-CUPE).