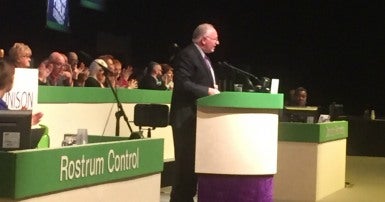 Faced with governments pushing austerity around the world, global solidarity is more important than ever. That was the message Paul Moist, national president of CUPE, brought to UNISON, one of the United Kingdom's largest trade unions representing over 1.3 million public service workers.
Address delegates to UNISON's 2015 national conference, being held in Glasgow, Scotland, Moist pointed out how many of the challenges being faced by workers in the Canada are also present in the UK, and the best way to fight back is together.
"We must speak with one voice, and speak truth to power and say loudly, we reject permanent austerity, we reject the exporting of good manufacturing jobs, and we demand decent work with decent pay for all citizens of this great country," said Moist in his address.
Moist also highlighted how trade unions must work side by side to ensure international trade agreements – such as proposed Comprehensive Economic and Trade Agreement (CETA) between Canada and the European Union - don't trample the interests of workers or surrender the democratic rights of citizens.
"Our reservations are about democratically elected governments ceding power and authority to private corporations," said Moist. "Global trade that further empowers corporations and reduces our workplace and social wages is something we reject and vow to fight with all our strength. Our governments must retain the right to govern on behalf of all citizens."
Working together across borders, Moist said trade unions can push back on risky trade deals and pressure world governments to take action on other issues, such as global warming.
"Ours must be a united trade union voice on global issues such as climate change. We know we need public power to combat climate change and trade deals which threaten public power and must be resisted by us, with force," said Moist to a standing ovation. "A unified global trade union struggle linking labour rights with human rights is a struggle we can win."