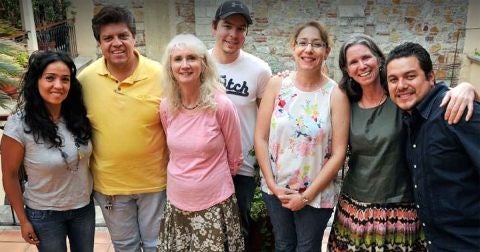 Mexico: Global Days of Action
With support from several global union federations, unions in Mexico called for Global Days of Action in February 2013. Trade unions from around the world participated and joined in solidarity to express their concerns over Mexico's ongoing and flagrant violations of international labour rights and standards. 
CUPE is an active member of the Tri-National Solidarity Alliance (TNSA), a network of unions in Canada, US and Mexico that share a vision of international union struggle. We engage in solidarity work around the demand for freedom of association, and struggle in solidarity with our sisters and brothers in the trade union movement in Mexico.
CUPE and several other Canadian unions, led by the Canadian Labour Congress (CLC), met with Mexican Embassy officials in Ottawa and called on the Mexican government to:
Provide justice for the families of 

the 65 miners killed at Pasta de 

Conchos in February 2006;

Adhere to international labour 

standards and International

Labour 

Organization recommendations;

End the use of employer dominated 

protection contracts 

(fake collective agreements with 

corrupt unions);

End the persecution of independent 

democratic unions and union 

leaders and activists, and free 

jailed union activists;

Repeal the regressive, antiworker 

labour laws enacted in 

December 2012;

Reinstate unlawfully fired union 

activists;

Allow free and fair union elections. Mexican workers continue to courageously demand justice.
Mexican workers continue to courageously demand justice. CUPE and its allies in the labour movement continue to support them in this struggle.
Delegation to Mexico:
communities speak out against Canadian mining companies A nine-member delegation from several Canadian unions and an inter-faith group travelled to Mexico this past February to study the impact of Canadian mining activities on local communities. The delegation was led by the United Steelworkers (USW) and included delegates from CUPE, the Communications, Energy and Paperworkers (CEP), and KAIROS: Canadian Ecumenical Justice Initiatives.
Delegates were hosted in Mexico City by REMA (Mexican Network of Communities Affected by Mining), ProDESC (Project for Economic, Cultural, and Social Rights), and the national leadership of Los Mineros (Sindicato Nacional de Trabajadores Mineros, Metalúrgicos, Siderúrgicos y Similares de la República Mexicana). Together these organizations expressed concerns about the Mexican government's promotion of Canadian mining and resource extraction corporate interests at the expense of the livelihood and rights of communities in Mexico.
The delegation travelled to the states of Durango and Oaxaca where they met with communities impacted by the mining activities of the Canadian corporations Excellon Resources and Fortuna Silver Mines Inc. respectively. They listened to community members tell stories of injustice, human and labour rights violations, environmental destruction, community tensions, and disregard for their local decision-making authority. In the community of Calpulalpam de Méndez, in the state of Oaxaca, delegation members drew inspiration from the community's successful attempts at halting the mining activities of the Canadian company Continuum Resources. Community members spoke passionately about their community's potential, and were clear that they must be included in any future development activities.
It is more important than ever to work with other unions and civil society groups to pressure our government to hold Canadian companies accountable for their destructive activities at home and abroad. We must seriously question our pension investments and continue to act in solidarity with our sisters and brothers struggling for justice. This delegation also participated in the Global Days of Action while in Mexico and joined the SME (the Mexico Electrical Workers Union) to protest against the growing antiunion measures. Two years ago, the government fired 44,000 SME members after it privatized the electricity utility.