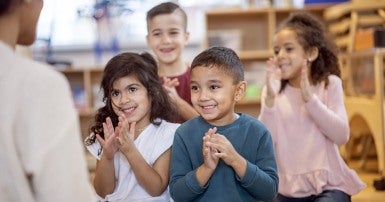 The International Trade Union Confederation (ITUC) has called for a global day of action in solidarity with and support of the caring economy.
The COVID-19 pandemic has laid bare the devastating effects of decades of under-investment in care systems and the harmful politics of austerity. According to Child Care Now, 72% of child care centres have been closed due to the pandemic. Canadians need bold leadership, coupled with accelerated federal funding, so child care in Canada can move from a market-based model to a publicly managed and fully publicly funded system. Now is the time to push for a new normal for parents across the country and address the social inequities that COVID-19 has exposed.
"We've stayed open to ensure other essential workers could return to work. We're taking on extra duties to keep the kids and our colleagues safe. People could not return to their work if we didn't do ours," said Harpreet Sandhu, a Preschool Instructor, with CUPE 1936 in British Columbia.
 "Early Childhood Educators are educators; we should be treated as such, says Sharon Shu, Early Childhood Education and Senior Councillor, CUPE 1936 in British Columbia.
It is hard to find ECEs right now. People do not want to enter the field because we're undervalued and unappreciated. Our starting wages are barely above minimum wage and we often don't have benefits. It's a demanding job, it's female dominated and I think that's why the wages remain low," she added.
On October 29, let's raise awareness of the importance and value of the caring economy. As Canada recovers from COVID-19, let's make child care affordable for all Canadians.