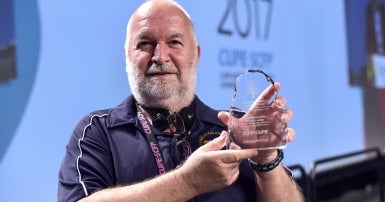 Gervais Pelletier, a 35-year Hydro-Quebec employee and long-time activist for CUPE 1500 is this year's winner of the Health and Safety Award.
"He has helped his members a great deal through his dedication and knowledge, his availability, and his generosity," said President Mark Hancock.
Brother Gervais has worked as a lead apparatus electrician for Hydro-Quebec since the 1980s. His work as a health and safety activist and educator began not long after.
In accepting the award, Brother Gervais made a point of thanking not only the National Officers and delegates but also the award's other candidates.
"I think we all deserved this prize," he said.
"United, we serve each other not in our own interests but in each others' interest, so that everyone goes home at night in one piece," he added.