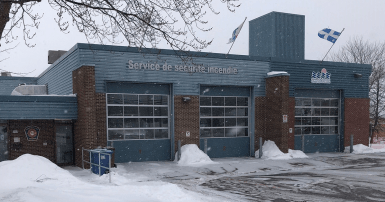 The Syndicat des pompiers et pompières du Québec (SPQ) is still seething over the discovery of surveillance equipment in an office at the Saint-Timothée fire station in Salaberry-de-Valleyfield last Saturday.
A camera had indeed been concealed in the ceiling of one of the rooms, and the news sparked indignation among the entire staff.
"Our members are outraged. They feel their privacy has been violated. The fire station is our workplace, and all kinds of conversations both personal and union-related take place there. It's totally unacceptable!" denounced Mercier, president of the SPQ local.
An official complaint was filed with the Sûreté du Québec alleging illegal use of electronic surveillance equipment.
The presence of the hidden camera in the workplace appears to be related to recent actions that nine fire captains took to gain recognition of their union status.
According to Mercier, this situation has further eroded the trust of the more than 40 firefighters and the fire captains in town, especially since these workers have been criticizing the new director in the past several months for his confrontational and anti-union management style.