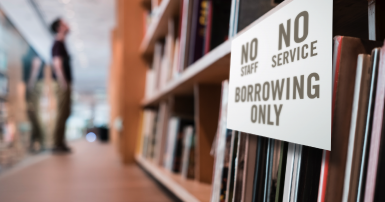 Library workers are the heart and soul of libraries. It's hard to imagine libraries without them.
But, sadly, staffless libraries are a growing trend. They've established a foothold in Toronto (Local 4948), Hamilton (Local 932), Essex County (Local 2318), and Kingston (Local 2202). And they could creep into more communities in the face of staffing shortages and as library boards look to expand hours of operation while cutting costs.
Some locals have organized campaigns to fight back against staffless libraries, including locals 4948 and 2202. They know that staffless libraries hurt the people who use them and work in them.
CUPE is launching a new guide so locals can also fight back against staffless libraries at the bargaining table.  The guide contains:
Collective agreement language to prevent the adoption of the staffless library model;
Information about staffless libraries that can be incorporated into local campaigns;
A list of actions locals can take to protect library services and jobs.
A staffless library is a library that is accessible to the public during specified hours with no on-site staff. They enable patrons to borrow and return library materials, and to access public computers and the internet. However, when staff are missing from libraries, so too are the high-quality library programs and services people depend on. And there's no one to offer assistance and augment patron safety. As a result, libraries become less welcoming, inclusive, and accessible spaces. 
Staffless libraries also impact library jobs. In Kingston, staff will lose the 7-hour shifts they had at a branch where staffless hours have been introduced. Their shifts will be shortened and spread over more days. This impacts part-time workers' second jobs and their ability to pick-up casual shifts.
Many people would like their local library to be open more often. But all hours of operation should be fully staffed, and have an appropriate staff mix and adequate staffing levels. This requires increased funding from our provincial and municipal governments and investments in full-time, permanent, and well-paying jobs.