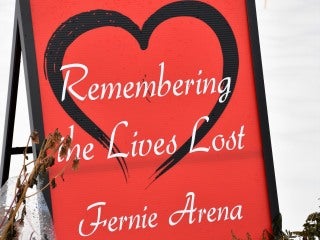 Hundreds gathered around a bonfire at Fernie Secondary School last Sunday to remember and pay tribute to the three men who lost their lives in a tragic workplace accident last month.
Wayne Hornquist, 59, Lloyd Smith, 52, and Jason Podloski, 46, died October 17 while making emergency repairs to the refrigeration plant at the Fernie Memorial Arena. Hornquist and Smith were both City of Fernie employees and CUPE members, and Podloski was a CIMCO Refrigeration employee.
"Sunday's memorial was a beautiful tribute to three men who were taken too soon," says CUPE BC Secretary-Treasurer Trevor Davies. "Seeing how the community has pulled together to support one another is incredible. Our thoughts continue to be with the community of Fernie and everyone affected by this tragedy during this difficult time."
All three men were described by family and friends as compassionate and caring individuals who were deeply committed to their communities and families.
Fernie Councillor Joe Warshawsky gave Hornquist's eulogy and described him as someone who always had your back and said that when young people worked with Wayne they considered him to be a father figure. He was a committed city employee for 25 years.
Smith, who had worked at the City for the past two years and been a dedicated paramedic for 20 years, was remembered by his sister and Ron Oszust, a fellow BC Ambulance Service paramedic.
Oszust told those in attendance that as a paramedic Lloyd was driven to be an absolute professional and that he was a mentor for his coworkers.
Podloski's family remembered him and spoke about his love for his two sons and partner Stacey, his love of music and his incredible gift for woodworking.
Following the memorial, the families hosted an indoor reception where community members could share stories and memories, and view a photo tribute to all three victims.
CUPE 2093 President Doug Mitchell says that CUPE members in Fernie are still feeling the loss of their fellow coworkers.
"Wayne and Lloyd were really valued team members at the City of Fernie and it is going to be impossible to replace them. Sunday was a difficult day, but was an important step in the healing process for our community," said Mitchell. 
Mitchell adds that he wants to thank everyone who has sent their condolences, or offered support during this difficult time as it is greatly appreciated by CUPE 2093 members.