Tara Paterson | CUPE Staff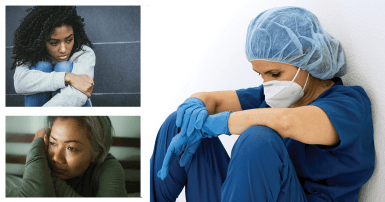 As the pandemic enters its third year, it's no surprise that many workers are struggling with their mental health. A January survey from the Centre for Addiction and Mental Health found that a quarter of respondents were experiencing anxiety and 22 per cent were feeling depressed.
The issue is gendered. In the same survey, women's reports of anxiety, loneliness and depression had increased significantly from just six months before. Men's, on the other hand, increased only slightly. The survey did not include data on other gender identities.
This is perhaps unsurprising given that women have been saddled with the lion's share of unpaid care work throughout the pandemic, while also making up the majority of the workforce on the front lines.
"After two years of working jobs that are often unsafe during the pandemic and also often having to take care of children, women are tired, they're burnt out, their mental health is in the pits," says Susan Gapka, CUPE 2998 member and mental health advocate.
Most of the sectors deemed essential during COVID-19 – namely, health care, child care, and long-term care – are staffed almost entirely by women. "Many of the women on the front lines who are working to keep us all safe are also racialized, Indigenous, newcomers or young," Gapka reminds us.
These workers reported some of the worst mental health outcomes, and 37 per cent were dealing with moderate to severe anxiety at the time of the survey in January.
As CUPE 6364 member Rosemary Buote puts it, "many of us health care workers are scheduled 12-hour shifts. Our shifts can end as late as midnight, so when we leave work there are not many friends or family available to chat or 'vent' to. We spend a good deal of time alone because of it. This, paired with the fatigue of working long, stressful hours in chaos, leaves us with nothing left to give to our families, even preparing a meal seems like a chore."
The increased risk of exposure to the virus that front-line workers experience is inherently stressful. It would be a mistake, however, to assume that the psychological burdens facing women workers are inevitable.
Unfortunately, governments and employers have failed to take the necessary steps to protect workers, especially women, from physical and psychosocial hazards.
"Managers were locking up N95 masks in their offices, implementing substandard COVID-19 policies, while we were dangerously understaffed and overworked," Buote says.
"The burdens put on the shoulders of women working in health care and long-term care are not the fault of the workers, but of a government and systems of employers who put profit over people and barely gave us the minimum standards that we would expect for a crisis or pandemic situation," she added.
"We are expected to go to work in a place full of sickness, stress, and often chaos, but then it is the expectation that we will leave our health care facilities like nothing happened, go home and into our communities to navigate our own personal journey through the pandemic, and then repeat," says CUPE 6364 member Rosemary Buote.
Even for those not on the front lines, employers need to recognize the unique struggles that many women are facing when working from home – especially those with caring responsibilities.
Several provinces introduced various emergency leaves during the pandemic to allow workers to take time to care for family members and attend to other health issues. But most of them are unpaid, and few workers can afford to lose out on wages.
Every Human Rights Code in Canada includes family status as a protected ground except Quebec's. In Quebec, they have a protection for "civil status" which is essentially the same thing. The protection that this affords means that employers have a legal duty to accommodate parents and those with caring responsibilities, up to the point of "undue hardship".
Too often, employers fail to meet their obligations here.
CUPE activists are pushing them to provide reasonable accommodation and increase access to other mental health supports. Yet, many face reprisal for speaking out.
According to Buote, "health care workers are unique in the aspect of privacy and confidentiality. We are taught the importance of sharing feelings and experiences, yet we are restricted in what we are allowed to share from both a moral and legal perspective."
Workers aren't allowed to share the interactions and experiences they have had, "they're too troubling to repeat and most people wouldn't even believe us if we did get the chance," Buote says. "The fear of reprisal for health care workers seemingly overshadows the message that speaking out about unsafe and dangerous working conditions, be physical or psychosocial hazards, is everyone's responsibility and duty."
Some employers are also using the pandemic as an excuse.
"Trying to bargain for better benefits and mental health care has been really hard," says Susan Gapka. "The employer wouldn't budge because they said there was so much uncertainty around the pandemic."
Still Gapka and many other workers are committed to doing the work on the ground.
She and her co-workers in the social services sector have witnessed the effect of cuts to public services, including mental health care, first hand. They have been helping to provide food for residents living in tents in a Toronto park while working from home. "We have really worked to provide the services that people, especially women, need and that our governments are refusing to provide," she says.
"I know for so many women, especially trans women, women who are street involved, women who are marginalized, it's really hard right now," Susan Gapka highlighted.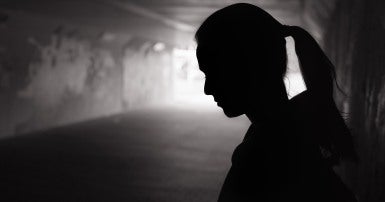 The federal Liberals campaigned on a $4.5 billion mental health transfer in the last election as one of their top priorities. The funds will almost certainly have strings attached though. So, provinces need to be ready to meet these standards.
Rosemary Buote acknowledges that there are some crisis services available. But, she says, these often have very long waitlists because most provincial governments have failed to make the necessary investments.
While federal funding should help, Buote argues that "we need to look past the immediate and make a long-term plan for healthcare workers and their family members affected as we work through pandemic recovery."
Improving women's mental health will require more than a one-time cash injection for services. We need employers and governments to step up and address psychosocial hazards, address the crisis in paid and unpaid care work, and invest in services women need and deliver.
---
About Rosemary Buote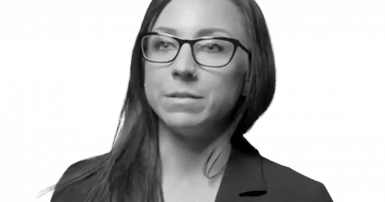 Rosemary Buote is a site vice-president, Oshawa and Whitby, at CUPE 6364 representing hospital workers of the Regional Municipality of Durham, in Ontario. She is a Health and Safety representative on the Ontario Council of Hospital Unions, and she sits on the Health Care Workers Coordinating Committee. 
She is also the health care sector representative and Co-Chair of CUPE Ontario's Health and Safety / Injured Workers Committee. She is a member of CUPE's National Health and Safety Committee.
About Susan Gapka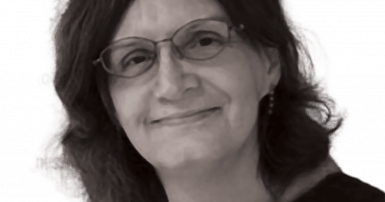 Susan Gapka is a tireless champion for equity in and outside of our union. Susan has spent years advocating for women and the 2SLGBTQ+ community, and demanding more affordable housing and better mental health care.
She has served on CUPE Ontario's and CUPE National's Pink Triangle Committees, and on CUPE Ontario's Women's Committee. She is the first trans woman to serve on CUPE Ontario's Executive Board.
At the 2021 CUPE National Convention, Susan Gapka was recognized for her outstanding work with the Grace Hartman Award.