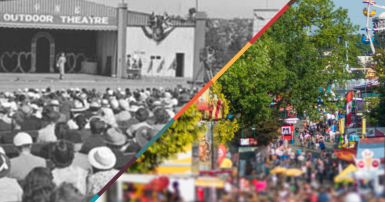 A century old tradition of summer in the lower mainland of BC is being threatened by a loophole in the federal government's response to the COVID-19 public health crisis. The largest union representing workers at the Pacific National Exhibition says long-term survival of the Exhibition - and the jobs of over 4,200 people - are at risk due to its exclusion from federal emergency financial aid.
"While many Canadians and businesses have had support to weather the COVID-19 pandemic, the Pacific National Exhibition is being left behind," says Andrew Ledger, president of CUPE 1004, representing over 4,000 PNE workers. "Without immediate action from the federal government we may lose this important public institution, along with over $200 million of economic benefits to the region and the jobs of 4,200 people it employs every year."
While the PNE is owned by the City of Vancouver, it operates as a year-round not-for-profit organization with no government funding. But municipal governments are excluded from accessing the Canadian Emergency Wage Subsidy, the federal government program subsidizing partial wages for businesses affected by COVID-19. While financially independent, the PNE affiliation with the City has meant it cannot access the CEWS. Without this assistance, and revenue losses due to COVID-19, the long-term survival of the PNE is threatened.
"Even with cost cutting measures, the Exhibition is staring down at project debt of up to $19 million by the end of the year. For a non-profit organization, this could be a fatal blow," says Ledger. "We desperately need the CEWS or some other support from the federal government to save the PNE."
In June, CUPE 1004 and the other unions representing PNE workers wrote to Finance Minister Bill Morneau urging federal government action, outlining the historic and ongoing significance of the PNE, the economic benefits it provides to the region, and the impact COVID-19 is having on the over 4,200 people the PNE employs every year. To date, there has been no response from the federal government.
"The COVID-19 pandemic has taken a serious toll on CUPE members at the PNE, and even through these tough times they are still dedicated to this 110-year-old institution," says Ledger. "But we need the federal government to step in, or there won't be a PNE for CUPE members to help rebuild."
In an effort to mount pressure for federal government action, CUPE 1004 has launched a Save the PNE campaign. The union is urging British Columbians to visit SavethePNE.ca, where they can send messages to Finance Minister Morneau calling for federal action.