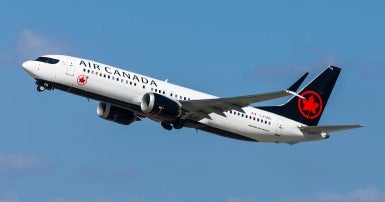 The Canadian Union of Public Employees (CUPE), the union representing roughly 10,000 flight attendants at Air Canada and Air Canada Rouge, says the federal government's $5.9 billion aid package for Air Canada announced Monday evening breaks the government's commitments to workers.
The deal features repayable loans to the airlines conditional on reopening regional routes and refunding passengers for cancelled trips. However, the agreement betrays the government's commitment to support airline workers affected by the pandemic.
"We had a commitment from the Trudeau government that any relief money for the airline sector would flow directly to support workers, and that commitment is not reflected in this agreement," said CUPE National President Mark Hancock. "This deal is exactly what we feared a deal cooked up behind closed doors would look like: it's a year late, no transparency, and not nearly enough to support the thousands of flight attendants still reeling from the impacts of the pandemic."
"This announcement is good news for our 2,000 members still working at Air Canada and for the stability of the company going forward, but it's tough to think this is what we waited 13 months for," said Wesley Lesosky, President of the Air Canada Component of CUPE. "This announcement leaves over 7,500 of my members with no answers and no income supports."
Lesosky says the only jobs guarantee in the agreement – that Air Canada maintain April 1, 2021 staffing levels – makes no sense, since staffing was already all but guaranteed to rise as summer approaches and immunization efforts ramp up across the country. "It's insulting, to be honest," Lesosky added.
CUPE is also concerned by the lack of transparency surrounding the agreement, and the lack of a government seat on Air Canada's board of directors – something that governments in other countries secured in exchange for airline aid packages.