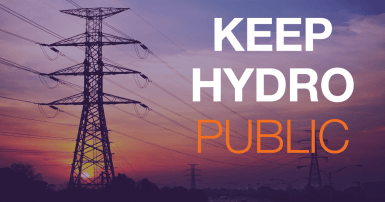 The new economic report released today from the Financial Accountability Office of Ontario (FAO) confirms what we have been saying for years now – the Ontario Liberal government acted irresponsibly when it sold off shares in Hydro One to balance their pre-election budget, says CUPE Ontario President Fred Hahn.
"Premier Wynne's decision to sell Hydro One to profit-driven shareholders is politics at its worst. After a one-time bump from Hydro One sales, the FAO expects 'the deficit to deteriorate steadily'," says Hahn. "Ontarians deserve a government that looks out for the people's best interests, not one that uses phony math to try and get themselves re-elected."
According to the FAO, even under the most optimistic of scenarios, the government will return to its deficit position after the next election unless it raises further revenues or exacts another round of austerity cuts.
"The result of Liberal incompetence is that many Ontarians are being forced to choose between food or hydro. Rather than admitting its mistake and bringing Hydro One back under public control, the government has added insult to injury with its "Fair Hydro Plan," says Hahn. "This latest Hydro legislation is nothing more than a payday loan at an exorbitant interest rate."
The FAO has also stated that it is not clear if the accounting structure used in the "Fair Hydro Plan" actually meets public sector accounting standards.
"Ontarians are fed up with a Liberal government that says one thing while actually doing the opposite," says Hahn. "In just over a year, the people of Ontario will have the chance to voice their anger. The Premier should be worried."