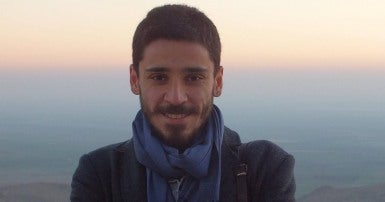 Members of the European Parliament have passed a resolution condemning the Turkish government's ongoing crackdown on opposition members, calling for the release of all political prisoners – some of whom have been unjustly imprisoned for years, and highlighting the case of jailed CUPE 4600 member Cihan Erdal.
Cihan is a queer youth activist, PhD student and member of CUPE 4600 at Carleton University. On September 25, 2020 he was swept up in a mass arrest of politicians, activists and academics in Istanbul. He is a Canadian permanent resident, who was in Turkey visiting family and conducting fieldwork for his doctorate.
Cihan was indicted, along with more than 100 other prisoners, in early January. The charges are based on two social media posts from the People's Democratic Party, Turkey's third largest political party, that Cihan shared six years ago. His first court appearance isn't until April 26.
Ska Keller, Member of the European Parliament (MEP) and President of the Greens/European Free Alliance released a statement saying "Cihan Erdal is a peaceful human rights activist and an academic. It is beyond absurdity that he is facing an indictment calling for 38 counts of aggravated life sentence based on the evidence of two tweets, while Cihan was only trying to make Turkey a better place. We ask for his immediate release and call for an end to this travesty of justice," adds Keller.
MEP Sergey Lagodinsky, Chair of the EU-Turkey delegation of the European Parliament, echoed Keller's call in the same statement, adding that "Turkish authorities must start living up to their own commitments and to international human rights standards … Political prosecution in Turkey and harassment of its students, human rights defenders, activists, academics, journalists and opposition politicians must stop."