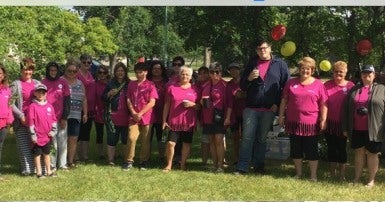 CUPE 5999 hosted Estevan's first ever National Aboriginal Day celebration. The event featured a free barbeque lunch, Aboriginal dances, and many community tables. The event was open to everyone in the community.
"Our union is proud to celebrate National Aboriginal Day and to host this event in Estevan," said Wanda Edwards, acting president of CUPE Local 5999. "Today and every day it is important to celebrate the vibrant and unique cultures of Indigenous peoples and to commit to the reconciliation process."
Over 700 people participated in this event, including many school-aged children.
Jodi Gosselin, chair of the Aboriginal Committee, said "I hope that Indigenous community members will see Estevan as a welcoming place, and we show the people of Estevan that our cultures should be celebrated."
The event was organized in partnership with the City of Estevan, Affinity Credit Union, and Pheasant Rump Nakota First Nation.